การจากไปอย่างไม่คาดคิดของ 'ฮันรยูสตาร์' ปาร์คยงฮา (Park Yong Ha) ทำให้คนบันเทิงต่างโศกเศร้ากันเป็นจำนวนมาก
Cr. - Trans by pingbook
Repost : http://twssg.blogspot.com/

ปาร์คยงฮา (33) ถูกพบร่างไร้วิญญาณเมื่อวันที่ 30 มิถุนายน 2553 เวลา 05.30 น. ที่บ้านพักในย่านนนฮยอน กรุงโซล โดยเขาได้ใช้สายชาร์ตมือถือในการแขวนคอตัวเอง ซึ่งผู้ที่พบศพของเขาคนแรกคือแม่ของเขานั่นเอง

หลังจากข่าวนี้ถูกแพร่กระจายออกไปบรรดาเพื่อนสนิทของเขาและคนบันเทิงต่างก็ได้เดินทางมาร่วมไว้อาลัยปาร์คยงฮาซึ่งจัดขึ้นที่โรงพยาบาลโซลซองโมกันอย่างถ้วนหน้า

ล่าสุดจนถึงเวลา 11.30 น. บรรดาคนบันเทิงที่มาร่วมพิธีไว้อาลัยปาร์คยงฮาประกอบไปด้วย โซจีซอบ, ปาร์คฮีซุน, ปาร์คควังฮยอน, คิมฮยองจุน (SS501) และน้องชายของเขา คิมคิบอม (U-KISS) โดยเฉพาะทางด้าน โซจีซอบ ที่ถึงแม้ว่าเขาจะยุ่งกับตารางการโปรโมทละครเรื่อง MBC 'Road No.1' แต่เมื่อเขาได้ยินข่าวการเสียชีวิตของเพื่อนรักพัคยงฮา เขาก็เดินทางมายังพิธีศพในทันทีเลยทีเดียว เขาไม่สามารถปิดกลั้นความเสียใจเอาไว้ได้จนถึงต้องกับหลั่งน้ำตาอีกด้วยเช่นกัน

บรรดาคนบันเทิงคนอื่นๆที่ถึงแม้ว่าในเวลานี้จะยังไม่ได้ปรากฏตัวในพิธีศพ แต่พวกเขาและเธอก็ได้เขียนข้อความอาลัยปาร์คยงฮากันถ้วนหน้าผ่านบล้อคและทวิตเตอร์

ออมจีวอน กล่าว "ฉันไม่รู้สินะนี่มันเป็นสิ่งที่เกิดขึ้นกระทันหันมากๆ ฉันไม่อยากจะเชื่อเลย ถ้ามันไม่จริงก็คงจะดีนะ" เธอกล่าวด้วยความเศร้า คิมจีเฮ "ร่วมด้วยอาลัยให้กับการจากไปค่ะ" ซึงอึนอี เช่นกัน "คุณเป็นผู้ชายที่เข้มแข็งไม่ใช่เหรอ..นี่มันทำให้เศร้าและเจ็บปวดมากนะ" เธอกล่าว

อนึ่ง ปาร์คยงฮา เป็นนักแสดงที่ผ่านผลงานละครฮิตไม่ว่าจะเป็น 'Winter Sonata', 'On Air' และล่าสุดเมื่อปีที่ผ่านมากับ 'Story of a Man' ซึ่งเป็นงานผลงานที่เขาได้รับความรักจากแฟนๆเป็นอย่างมาก ไม่เพียงเท่านั้นล่าสุดเขาเพิ่งจะได้รับยืนยันให้เข้าร่วมในละครอย่าง 'Love Song' ร่วมกับ ยุนอึนเฮ อีกด้วยเช่นกัน

ปาร์คยงฮา เป็นนักแสดงที่มีชื่อเสียงและเป็นที่รู้จักของชาวเอเชีย จากละครเรื่อง "เพลงรักในสายลมหนาว" ซึ่งมีดาราระดับซุปเปอร์สตาร์แนวหน้าของเกาหลีแสดงนำ ได้แก่ เบยองจุน,ซอยจีวูและปาร์คซอลมี... การเสียชีวิตของ ปาร์คยองฮาทำให้เพื่อนดารานักร้องนักแสดงของเขา ต่างพากันไปร่วมแสดงความเสียใจกับครอบครัวของเขาอย่างสุดซึ้ง....





[News] Actor Park Yongha Said "I Want To Die" To His Friend Hours Before His Suicide.
Original : http://twssg.blogspot.com/

This is just horrible. Actor Park Yongha was found dead at his Nonhyun-dong, Seoul home at 5:30 in the morning on June 30th. The media is reporting that he called his hoobae at 4:30 AM, just one hour before his apparent suicide. His friend said Yongha frequently said that he was so tired and wanted to die.

Another devastating news in Korean entertainment industry.

It was reported that actor Park Yong-Ha had passed away. Park Yong-Ha was found dead in his house on June 30th around 5:30 AM. It seemed that he had hanged himself. Park Yong-Ha's friends told that he was having a hard time dealing with his father's battle with liver cancer. A friend of Park Yong-Ha told that he was worried about his father every day but many told that they never saw him having any kind of depression.

It was reported that he messaged his father's shoulders and told "I am sorry" to his father as his last actions before his death.

Park Yongha became an enormous star in both Japan and Korea after starring in 2002′s Winter Sonata. He starred in a string of hits since then including On Air, Story Of A Man and was set to be the lead in Love Song. He was just 33 years old.
The funeral will be held at the Seoul Sungmo Hospital.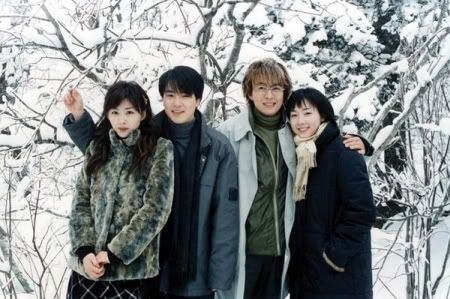 Park Yong-ha wellknow in Asia when he cast on Kim Sang-hyuk in "Winter Sonata", Some of his well known dramas Winter Sonata, Loving you, On Air, A Man's Story.

His Recognitions Award from :
2008 SBS Drama Awards: Male Lead Award - Special Drama (On Air)
2008 SBS Drama Awards: Top 10 Popularity Award selected by netizens (On Air)
2002 KBS Drama Awards: Best Actor Bronze


---------------------------


"The evening prior to his death (29th), Park missed a meeting with drama producers for his upcoming project Love Song. His manager couldn't get in contact with him.

Park's Story of a Man co-star Park Shi-yeon (currently acting in Coffee House), reportedly received a "huge shock" from the news and "is in very bad condition." She is so distraught that there's concern she won't be able to continue filming."

One friend says, "There's no way to know the real reason, but when I met Park a few months ago, he seemed depressed." His father's illness made things worse.

Park had said in an interview that he suffered from depression, which was exacerbated by prolonged promotional activities abroad.

One producer said that they had seen Park occasionally in a down mood, but attributed it to news of Park's father suffering from cancer. His father recently moved back home from the hospital after his stomach cancer was deemed late-stage.

Park reportedly died from hanging. He was found by his mother in his room with a cell phone cord around his neck.

Around 12:40 am, he was with his father, massaging his father's legs. Park told him "I'm sorry" over and over. He then went into his room, where he was found in the morning.

Producers of Love Song are "in panic mode" because Park's passing leaves them without a lead.